Ahh, spring. It's almost here, and I for one am beyond excited for a little fresh air and sunshine. I love all the things to do and places to go this time of year, after what seems like an eternity spent indoors. But sometimes in all the going and the doing, messes can bring things to a screeching halt, which is why I'm also excited about our new limited-edition Magnificent Mini Cleaning Kit.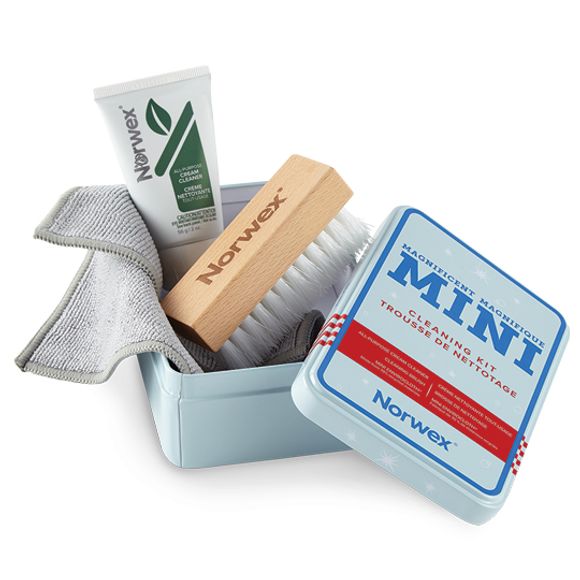 What's the Magnificent Mini Cleaning Kit? So glad you asked! It's a cute and convenient, take-along-anywhere set of three mini-but-mighty cleaning essentials that can easily handle whatever messes might meet you on your way.
It's perfect for stashing in your car or RV; storing under your kitchen sink; or gifting to a student or grad, that proud new driver, your favorite happy camper, mom, dad... just about anyone. I got mine a few weeks ago and it's already come in so handy. Here's why:
The mini-sized EnviroCloth® is great by itself for quickly wiping up spills and removing dirt and grime with just a little water. Made from our amazing Norwex® Microfiber, it removes up to 99% of bacteria from a surface with water alone when following proper care and use instructions; plus BacLock® in the cloth keeps it fresher longer. It's even STANDARD 100 by OEKO-TEX certified. Basically, it's just a handy little "use it again and again" workhorse of a cloth.
Our All-Purpose Cream Cleaner is truly amazing for all kinds of tougher cleaning jobs. With plant- and mineral-based ingredients, it's really a new take on an existing product, our Cleaning Paste, but it offers a more liquid version of that product. In other words, you don't need water to use it, like you would with the paste. Just shake it up and squirt a little bit of the Cream Cleaner on whatever stuck-on, dried-on mess you've got, and then easily scrub it away using your mini EnviroCloth or ...
The Norwex Cleaning Brush! I love how the stiff, polypropylene bristles of this little brush are great for scrubbing away extra-tough goo and grime. I love how the handle is made from beech wood. And I love how all three of these wonders fit snugly in their own storage tin, making it so handy to take places like the park, playgrounds, camping, work, etc.
While the Magnificent Mini Cleaning Kit is especially convenient on the go, I must say it's great around the house too, for removing stuck-on grime from stovetops, glass, tile, laminate, plastic and other hard surfaces.
Whether at home or on the go, with the Magnificent Mini Cleaning Kit, you'll be ready for any mess, any time, anywhere!
Resources: