Do your summertime plans include cranking up the grill for a delicious meal to serve family and friends? You'll want to make sure your cooker is clean! Not only does a well-kept grill look better, it's safer, works better and lasts longer, too.
Even if you wiped down your charcoal or gas grill last year before putting it away for the winter, it's important to clean it well now before its first use of the season. Why? Those ugly carbon deposits, sticky sauces and grease splatters can harbor bacteria that could transfer to food and lead to illness. In addition, excessive carbon buildup can cause uneven heating and can lead to gas-burner tube failure, too.
By following these simple steps throughout the grilling season, it will be easier to get and keep your grill as clean as possible.
1. Start the season by giving your grill a thorough cleaning. Whether your grill is gas, electric, charcoal or ceramic, avoid using harmful chemicals which can cause toxic fumes and potentially find their way into foods, leaving a bad taste and potentially making someone sick.
2. Remove and set the grates aside on some newspaper. Use a stiff brush to push any debris inside the grill into its tray. Remove the tray and dump the debris into the trash. Wipe the grill's interior with a damp EnviroCloth®, which is perfect for removing stuck-on gunk and grime.
3. Grab your enzyme-based Oven and Grill Cleaner and a stiff brush or scrubby SpiriSponge. Spray the tray and grates and allow the foam to sit for five minutes. Remove any deposits and wipe all surfaces clean with a wet EnviroCloth, rinsing frequently
4. After cleaning, replace the grates and heat the grill for 10 minutes before using.
5. To clean the grill's exterior, simply wipe it with a damp microfiber cloth and polish it with our Stainless Steel Cloth, made especially for the job.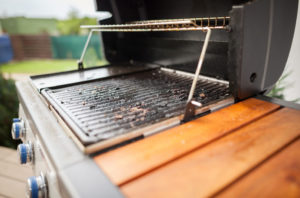 The key to keeping your grill cleaner (and safer) throughout the entire season is repeating the process of scouring the grates with your scrubby SpiriSponge or EnviroScrub and a little water after every use.
Depending on how often you use your grill, you should also occasionally use your Oven and Grill Cleaner to clean the grates. If you grill once a week, for example, you'll want to do this deeper clean about every two months to keep carbon buildup at bay.
Finally, to keep your grill looking and functioning at its best, give it a thorough, all-over clean at least twice during the season.
Grilling outdoors with friends and family is such a great way to enjoy a special time with those we love. Here's to keeping those grills as safe and clean as possible!
Resources:
Is Grilling Good for You? Or Bad? Here's What Science Says
What's Inside: Foamalicious, Vaporlicious Easy-Off Oven Cleaner